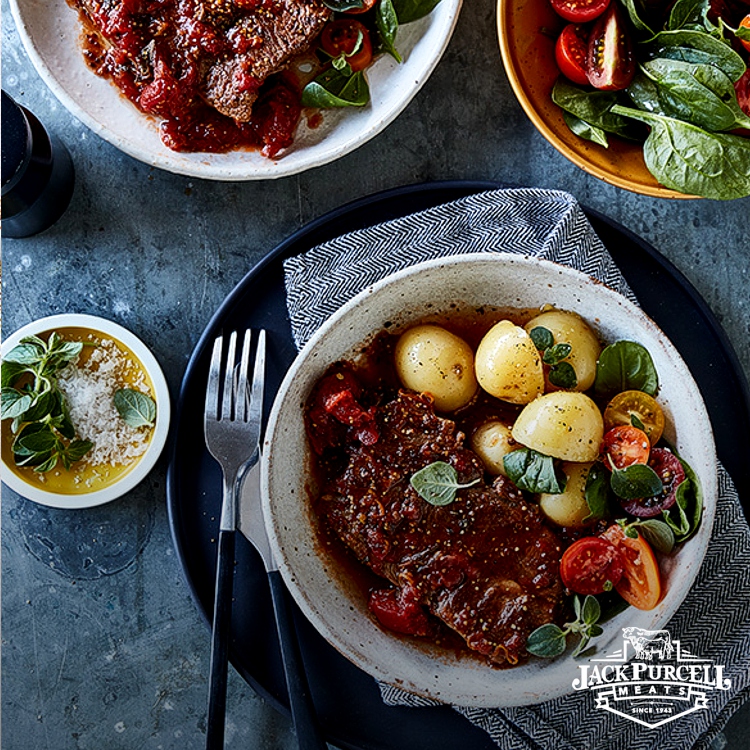 Preparation Time 10 minutes
Cooking Time 115 minutes
Serves 4
Ingredients:

800g beef oyster blade steak, excess fat trimmed
1 tbsp olive oil
Zest and juice of 1 orange
1 tbsp honey
2 tbsp wholegrain mustard
1 cup (250ml) beef stock
400g can peeled tomatoes, lightly crushed
2 tbsp oregano leaves + extra, finely chopped, to serve
Steamed baby chat potatoes, baby spinach leaves, cherry tomatoes, to serve
Cooking Instructions:
Preheat oven to 160°C (140°fan-forced). Heat oil in a large ovenproof casserole dish over medium-high heat. Add beef and cook for 2-3 minutes each side or until browned. Add orange zest and juice, honey, mustard, stock, tomatoes and oregano. Bring to the boil, cover with lid and place in oven. Cook for 1 ½ – 1 ¾ hours or until beef is tender and falling apart. Season to taste.
Serve beef with sauce, potatoes, baby spinach, tomatoes and extra oregano.
Tips:
Chuck or gravy beef would also work well in this recipe.
Add star anise, a cinnamon quill or dried chilli for extra flavour.
Serve with mash, rice or quinoa for a delicious weeknight dinner.